TRAVEL GUIDE ICELAND NORTH
Alphabetical Order


Geology North Iceland



HISTORY of VOLCANIS

Birds of
The North
NORTH ICELAND COMPLETE TRAVEL GUIDE

How to get there
FIND YOUR DESTINATION BY CLICKING THE MAP OR BELOW


The Northwest. The boundaries of this area are drawn

at

the centre line of

bays

Hrutaf

jordur

and Sigluf

jordur

.

This area is a relatively densely populated agricultural region with a few hamlets and villages. The landscape is varied with differently large mountain ranges divid

ing

the lowland

areas

.

The Northeast. The boundaries of this area are drawn

at

the towns Sigluf

jordur

and Thorshofn. The western part of the Northeast is more densely populated than the sparsely populated eastern part.

Road #1 passes through it. Recreational activities on offer are quite interesting and varied

.

Driftwood

h

as played an important role

in

this otherwise woodless country ever since it was settled.
The southernmost part of bay Eyjafjordur near Akureyri.
North Iceland Towns and Vllages in Alphabetical Order!


Bordeyri
District Strandasysla
Local maps
Midfjordur Area <> Blonduos Area <> Skagafjordur area <> Akureyri Area
Kjolur Route <> Husavik area <> Myvatn aera <> Route to Sprengisandur
.
North Iceland
Travel &Tours


In Icelandic



KALDBAKS - KOT
Cottages
Guesthouse

SBA-Nordurleid
Sightseeing & Excursions



The Folk
Music Centre



Ferry to Grimsey



Around Iceland
on route one

Bus Connection
North Iceland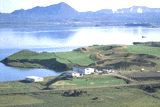 Bus Connection
Myvatn


Bus Connection
Husavik

Bus Connections
Akureyri

Bus Connection
Varmahlid